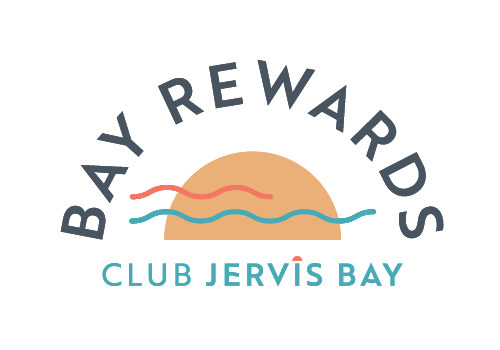 Where you'll enjoy a new wave of rewards as a member of Club Jervis Bay. A place inspired by the beauty of the Bay our atmosphere reflects warmth, joy and rewarding experiences for our members. Positioned by the water with the horizon on our doorstep, we pride ourselves on enriching and championing our community here in Jervis Bay.
Join
It's quick, easy and free to join as a member.
Earn
With each use of your card at the Club, you'll earn points to enjoy.
Redeem
You'll instantly receive discounts off all food and beverage, access to member only promotions and special offers including a gift every year for your birthday.
Member Questions
How can I become a Bay Rewards member?
Simply speak with one of our friendly reception staff or head to our website to complete an application form. The best part: It's completely free to join with instant access to rewards.
How do I earn Reward points?
Simply use your membership card with every purchase of food, beverage or when playing gaming machines. With every swipe, you'll earn points!
Where can I enjoy my Rewards points?
You're welcome to redeem and enjoy your Rewards points at our Bar, Bayview Bistro, Cheesy Grin or at Reception for a Pitstop Gift Card of your choice.
What are my Rewards points worth?
One Reward point is equal to 1 cent so 100 points is $1.00
How do I know what Tier I'm in?
It's as easy as swiping your membership card at our Rewards Kiosk or asking one of our friendly staff.
How can I move up Tiers?
The more points you earn, the higher the tier you'll access and the greater the rewards you'll experience. Tier escalations occur on the 1st of every month.
Do my Rewards points contribute to my Tier Status?
No, Rewards Points received through promotions, gifts or bonuses do not contribute to your tier status. This also means your Tier level is not affected
by enjoying your Rewards points.
Will I move down a Tier?
Tier reviews will occur in February and July each year based on your previous six months Tier Status accumulation.
Will my Rewards points expire?
All members Rewards Points will expire on the 30th of June every year except for Pearl and Coral Tiers.
Can I opt-out of Bay Rewards?
Yes, please see one of our friendly Reception staff if you would like to opt-out of all rewards and promotions associated with Bay Rewards.